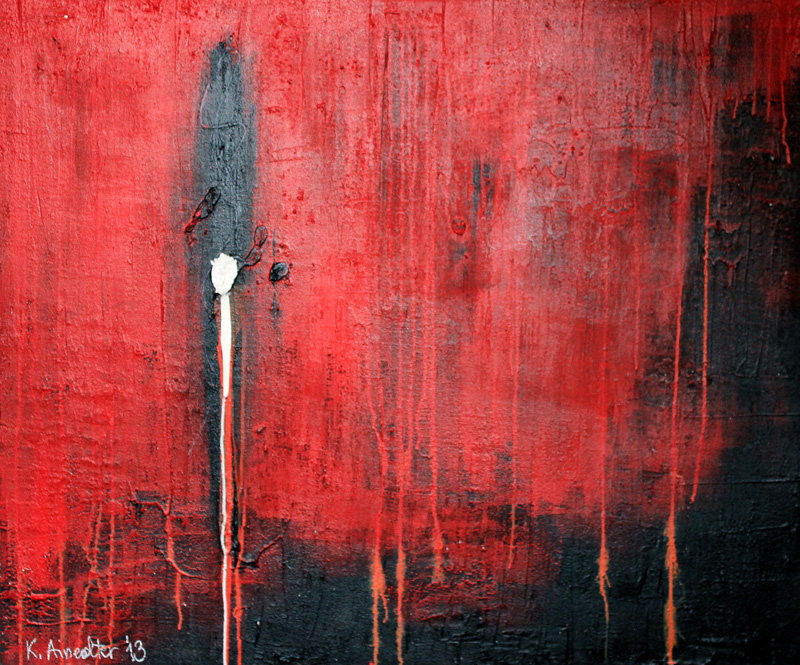 "Lost in the red and black"
2013, 100 x 120 cm, Acrylic mixed media on canvas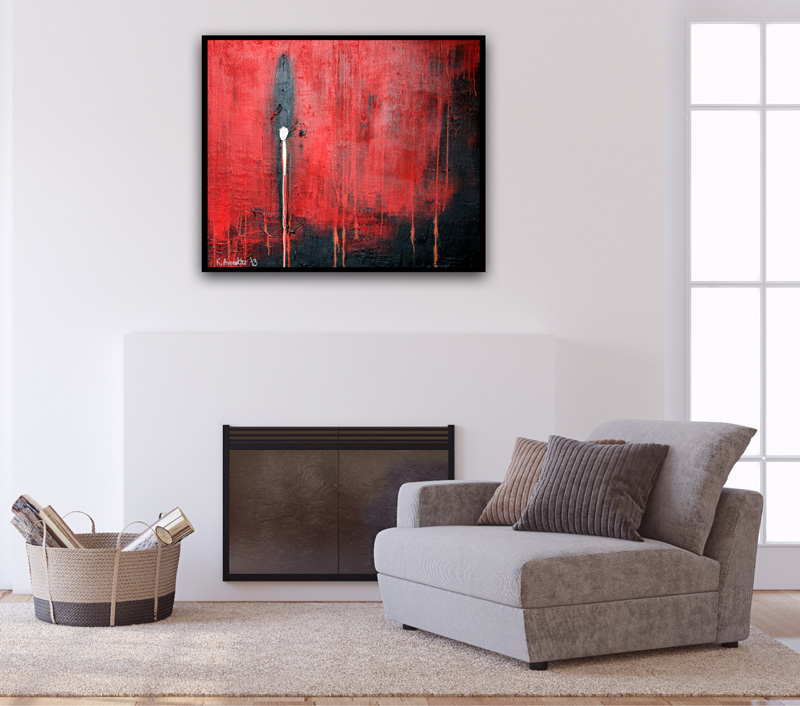 Klaus Ainedter was born in 1962 in the province of Salzburg / Austria. His interest in art was evident early on and he found his patrons in the academic painters – prof. Mag. Peter Lochmann, prof. Mag. Eduard Schmegner and Dr. Wilhelm Traunwieser.
Travel, portrait and landscape photography. Graphics art studies and media design studies in Salzburg, and intensive examination of painting, subject art & painting with prof. Karl-Heinz Ströhle, (Universität für angewandte Kunst Wien). Ainedter himself has been a lecturer for media and design in Salzburg and Vienna for many years.
Artistic development with the artists Bernhard Bair (chalk and watercolor) and Berthild Zirl (watercolor and acrylic, nude painting), Klaus Henkelmann (nude) and Johann Steppwieser (watercolor and acrylic), Mag. Inge Krenn (acrylic mixed media). He started his abstract art carreer in 2009. From 2011 exhibitions in Germany and abroad. Klaus Ainedter has been living and working in Vienna since 2005.
Klaus Ainedter finds his creative diversity and spiritual center in love of nature and mountains, on meditative journeys to other cultures and in many deeply felt and hearted encounters with other people.
For Ainedter, art is creating the world.
In this context, he not only works as a freelance artist, but also develops projects to create a more peaceful world together with people. He is a trainer, coach, advisor for people seeking advice and board member of an NGO that is involved in socio-political matters.
Vision
"For me, art is an expression of the soul, not of the eye" Painting as a process of becoming, not having a specific goal in mind defines the examination of my works. My paintings are usually created without any expectation in my mind's eye, without any requirement for a specific result.
The finished artwork is the end point of this process, sometimes just an intermediate result of the creative process, a snapshot of pausing without finality. "Listen to yourself" and "use tools, material and color" is the beginning.
Intuition and soul become one and let lightness arise in the viewer. His soul connects with the artist's vibrations, which become color and expression, forever stored deep within the image.